I think for the first time I have nothing to write about. Sure I can always blog about silly crap. Like making fun of this alien cult that want to built a Las Vegas theme park.
(LAS VEGAS, Nv) --

The Raelian Movement is announcing plans to build a UFOland in Las Vegas where visitors can attend a Happiness Academy and see a full-size replica of a UFO.
But some days I just ain't feeling it. And today is one of those days. I thought I was going to take today off from the blog game. You know the game can wear you down, but I said fuck it.
The larger question is what the hell am I going to do this weekend? There is 100% chance that I will be drunk, and that will probably be very soon. But where do I consume mass quantities of alcohol and with who? That is my problem at the moment.
I could go to a
beer fest
this weekend. Last time I went to one it was fun, but the person I went with then has now turned into this person.
I could lame out and catch up on some summer movies, but that is just lame.
I could do some reading, and catch up on some blog stuff. But where is the excitement for that.
I could do something exciting and become a superhero. Apparently this is quite popular now.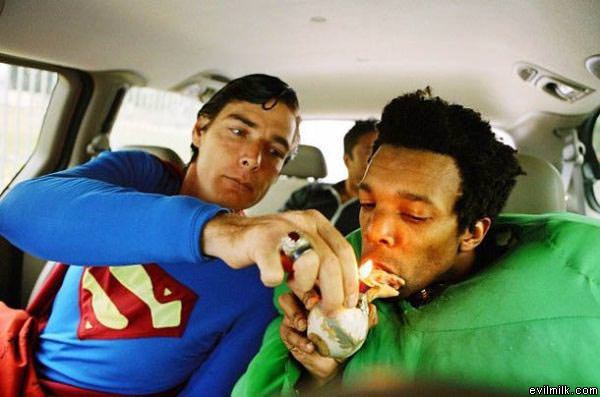 CNN---As people become disillusioned from financial woes and a downtrodden economy and look to put new purpose in their lives, everyday folks are taking on new personas to perform community service, help the homeless and even fight crime.

"The movement is growing," said Ben Goldman, a real-life superhero historian. Goldman, along with Chaim "Life" Lazaros and David "Civitron" Civitarese, runs the New York-based Web site Superheroes Anonymous as part of an initiative dedicated to organizing and making alliances with superhero groups.
But I am just way to pretty to be risking life and limb on the mean streets. Plus I am just a pussy, that will end up injured. Even though I would probably look good in tights.
So I am left with a lot of questions on what I should do? This is the first weekend in a while I don't have anything planned, and I am not sure how to handle it. Most likely I will sit on my ass.
Feel free to offer suggestions.